Hi wargamers!
I have always been a big fan of the T-64 tank, the techincal revolution it was in the moment which was introduced and the "gap" it created in NATO-PACT armor capabilities (remember that T-64 rivals would have been M60, chieftain and Leopard 1).
More info, and a comparative view with NATO armor (spanish):
http://www.militar.org.ua/militar/tanques/tanques-T-64.html
An interesting page (submitted by ikalugin, thx mate!) (russian):
http://www.btvt.narod.ru/4/4.html
The photos are taken from the spanish page so kudos and respect to him.
So i would like to discuss tactical use of t-64 and t-72 tanks in-game.
But first some information, images and videos:
T-64 series: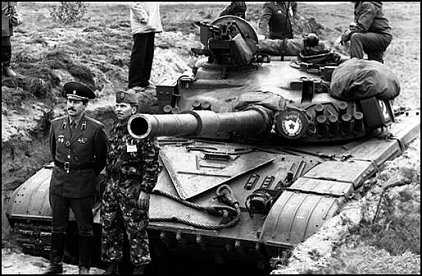 The t-64 design began at '50 era. In that period, the best PACT armour in the field was the T-55 tank, but the introduction of the british 105mm L7 as the standard main gun in NATO arsenal was an enormous threat to it. So the Jarkov bureau's chief, Alexsander Mozorov, was given the task to create a new and revolutionary tank. His model set a departure from earlier WW2 era tank designs (t-34/T-54/T-55/T-10), which the T-64 had to replace, and awarded him the "hero of the soviet union" prize for the sucessfulness of the T-64 series.
Prototype work ended at '60 era, with the introduction of "Obyekt 430" and "Obyekt 432". Some innovative solutions had been applied: autoloaded smoothbore 115mm UT-5 gun (an autoloaded version of t-62 gun), improvements on the chassis and the engine, and the introduction of composite armor (first an aluminium filler in the turret, later the "combination K"), giving enhanced protection to HEAT rounds.
Obyekt 430 prototype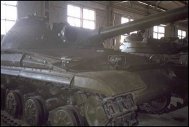 After this the production of T-64 was aproved. to this day, more than 13.000 T-64 series tanks have been built, and that eliminates the mith that was a "high-end" tank only for elite formations.
The T-64 series was established:
First models: T-64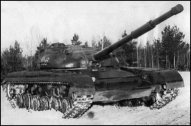 The first model T-64 was armed with the 115mm 2A21 main gun, with an autoloader and a basic stabilizer. The 5TD engine was very compact and light, giving a very good power to weight ratio. unfortunately, this compactness caused it to overheat, and low reliability problems arouse. Later this first T-64 tanks were rebuilt to the T-64A standard, renamed T-64R.
First modernisation: T-64A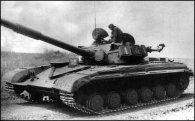 The introduction of the chieftain tank in NATO arsenals alarmed soviet generals: it's thick frontal armor made them build the 125mm main gun (2A26) Many years later this movement was considered precipitated, but at that time it solved the problem. The T-64A was the first tank upgunned, and also benefited from improved armor, sights and a NBQ kit to protect the crew in nuclear warfare. Improvements in the engine solved that low reliability the first series suffered.
State of the art: T-64B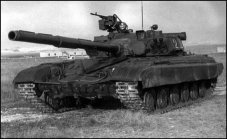 In the middle of the '70 era the advancements in electronics made possible the developement of electronic fire controls. The T-64B was the first tank not in the soviet arsenal, but in the world, to equip one. It opened the era of tube launched guided missiles.
The T-64B was armed with the "kobra" ATGMs, which allowed the T-64 to engage enemy ATGM platforms and low flying helicopters, and enemy armor at 4kms. The missile was radio-guided, with a theoretical hit chance of 80%, and a 600mm RHA penentration. No NATO tank at the era could reliably survive a front hit. In fact, the missile COULD be fired on the move, at 30km/h max, but the terrain had to be quite flat, a difficult thing when moving off-road. The main drawback of the missile was its high cost, as high as a civilian car, and only was allowed to be fired by officers.
9M112 "Kobra" ATGM. Very well modelled ingame
The T-64B also recieved thicker armor, as well as a more precise main gun (2A46), laser rangefinder and ballistic computer, and a better stabiliser.
VIDEO OF T-64B FIRING
:
http://www.youtube.com/watch?v=B4B4Yd6q-zg
This interesting video ahow how fast the T-64 was able to fire, thanks to its hydraulic autoloader (T-64 and T-80 series was hydraulic, faster at 10rpm, and the T-72 and T-90 was electrical, which was slower). The system could be used in "secuence" mode, which offered a rate of fire as high as 19,5rpm. This rate of fire was not sustainable and would put great strain in the autoloader mechanisms, and would be lowered by the gunner to aim the round.
Oh, and it would NOT eat crew for lunch (another mith). The only way for a crewman to get hurt is to put his arm inside the breech of the cannon, not a very intelligent idea.
More information about autoloaders and rounds here:
http://fofanov.armor.kiev.ua/
Minor changes: T-64BM
The T-64BM was basically a T-64B with a new and improved engine, the boxer style diesel 6TD (985 hp), which was more reliable and gave the T-64 even better mobility. Not to be confused with the later ukranian based variant T-64BM "Bulat".
Reactive armor: T-64BV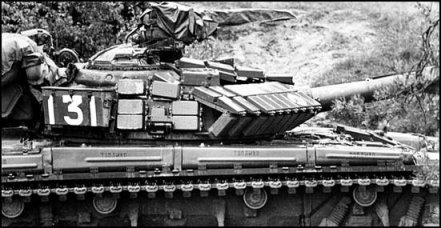 In the '80 era, with the experience of the yom-kippur war about how nasty HEAT rounds are to tanks, the T-64BV was equipped with 256 bricks of ERA armor, giving 950mm protection on front turret and 900mm on front chassis, whick protected the tank from LAWs and othe RPG-style weapons.
There were small improvements with radios and smoke dispensers.
The T-64BV was used in combat in the '90, in Transinitra, during Moldavian civil war. Some T-64BVs were destroyed by RAPIRA antitank guns and ATGMs. Read that those T-64 were poorly crewed and not 100% functional.
VIDEO SHOWING T-64BV IN A REAL FIREFIGHT:
http://www.youtube.com/watch?v=sm3LpmhUXHY
This video shows footage of the civil war which happened in moldavia. Here is the description of the battle from the source:
""Disarmed Transnistrian militia was suddenly attacked by a Moldovan mechanized brigade at a key city of Bendery. The defenders were severely outnumbered, cut off, and without armor support. During the next day Transnistrian volunteers with 11 stolen T64s [[NOTE: Read somewhere that they were not stolen, but covertly supplied by the russians, don't know if the source is reliable."]] made two attempts to break through to their surrounded comrades - across the only bridge covered by 3 AT gun/ATGM batteries and a batallion of infantry.
In the first attempt, they did not have infantry suppport - 2 out of 3 tanks burned then and there, the third one made it back burning, the crew was dragged out, later the tank blew. The next attempt was made with 8 tanks and Cossack volunteers - they won but only had one working tank left. The video shows the second attack, you can see the T64s taking a few hits and still moving. Cool story, and pretty impressive survivability for the tanks, especially since these were taken from long-term storage and reactive armor was not functional.""
Final thoughts:
As a NATO-PACT war fortunately never took place, we can only theorise about how good the T-64 series could have been agains other tanks. My opinion is that NATO would have struggled very hard to stop it, as in that time they had only the M-60 series, Chieftains and the Leopard 1 series which were tecnologically behind the T-64. This disadvantage would only dissapear with the introduction of the Leopard 2, M1A1 abrams, and challenger.
I also believe that the worst enemy of the T-64 were not the NATO tanks, but the ATGMs as the TOW, launched by infantry or tank hunter helicopters.
It is worth noting that the T-80 was a derivate from the T-64 tank, and there was some T-64 prototypes equipped with the gas turbine engine wich would power the T-80 later.
It is also worth noting that the T-64 series was never exported outside of the soviet army, even in downgraded versions as the T-72 did. With the dissolution of the USSR, the ukranian army still uses the T-64 series modernised as T-64BM BULAT.
------------------- IN GAME USAGE -----------------
In Wargame ee we have the T-64A, T-64B, T-64BM and T-64BV variants. It is a mid to top range priced tank, with a very decent main gun, ATGMs (excluding T-64A), stabilised to fire on the move (again excluding T-64A). Its equipped with a very good frontal armor and mediocre (T-64A) to outright bad side armor for its price (T-64BV), which makes it a tank that need some micromanage to prevent exposing the rear, and also limits its usage.
Stats for the T-64 series are:
T-64A:
6/7/4 10rpm main gun, no ATGM, HMG, 5/2/1/1 armor and no stabiliser.
This is a great main gun for a basic tank, being powerful, fast and precise. Not stabilised so it needs to stop before firing. The HMG gives useful protection against poorly used helicopers which fly overhead or without recon. The front armor is very good for a basic tank, and the side armor mediocre for its price. Decent fuel economy is common to all the series.
I use the T-64A as a tank for pushing the line, manouvering and flanking. Its cheap price makes the side armor issue not that important, but when used ahead of your line for pushing/flanking, it will cost you some casualties. Its main rival is the T-72/T-72A series, which trade main gun accuracy for decent side armor.
T-64B:
7/8/4 10rpm main gun, 6/11/0 6rpm ATGM, HMG, 6/2/1/1 armor, bad stabiliser.
An interesting improvement from the basic tank for not-that-much price. The main gun is more precise and powerful, stablisied, and "kobra" ATGMs give him a chance against ATGM platforms (can one-shot many of them) and some dent against NATO's heavies at range. Front armor is good, but at that price level side armor is inadecuate. It is quite resistant to artillery fire.
I use the T-64B usually in pairs as mobile reserves in behind my frontline, to reinforce sectors agains enemy attacks and as a dueller aganst NATO armor. The ATGM is better than the Shelliglagh that the MBT-70 has, and usually the T-64B will win a duel against him. The high ROF in the main gun will quickly dispatch cheaper tanks and IFVs that come close, and the front armor enables it to take 1 or 2 infantry or IFV fired ATGMs.
As a quite expensive tank, it shouldnt be used in advances into enemy teritory, because its weak side armor puts him at risk. If used in offensives, it needs to be screened by other units, and the area under recon to find hidden threats. Be warned, T-64 will be rapidly destroyed if side or rear armor is hit (for example when routing) and micromanagement is needed.
Oh and I love the green camo paint it has
T-64BM:
Same as T-64B, but normal optics (T-64B are poor), and 5km/h faster.
My using of the T-64BM is exactly the same as the T-64B. The difference in price is 5 points so it's not much. I found that my adversaries tend to put more attention when they see a T-64BM than a T-64B, they seem to fear more the BM version (maybe because seeing two letters they confuse it with the BV, don't know). About the improvement in optics...well if u have to discover enemies with your MBTs.....you have a problem. Scouting is scout's work.
T-64BV:
8/9/4 10rpm main gun, 6/11/0 6rpm ATGM, HMG, 10/3/1/1 armor, good stabiliser.
The T-64BV is a special tank that need special strategies. Used wisely it's a very effective tool. Misuse it and you are basically sending a point gift to your adversary. Let's review her: First it has a 8/9/4 10rpm main gun. Thats an impressive main gun, precise and powerful, fast enough to chew and spat lighter vehicles, and hard enough to hurt any but the heaviest NATO armor out there. The ATGM is exactly the same of the T-64B, but with a so good main gun the missile is made a little redundant. Has the HMG as usual (if u cover your tanks as they should be with decent antiair the HMG would not have to fire a shot ever.)
The armor is what makes the T-64BV so special. The 10 front armor means that it will take hits and ATGMs like a champion, even [EDIT] new 13AP hellfires will do AT WORST 6 points damage (and considering they get a critical). 3 side points mean that if you screw up, you screw up good, cause a T-64BV can get one-shotted by most weapons that get a critical in the side armor. OUCH!.
And then you may ask: Ok Kruz, I know you're a T-64 nut, but I'll take a T-80B/A and forget the T-64BV. Similar price and i get decent side armor no?
The answer is....NO.
T-80A/B are worse stabilised, with worse optics, their turbine engine drinks fuel like hell, and they have NOT 10 front armour, which means that a 10AP weapon will do 2 times more damage to the 9 armored T-80B (4 times if it gets a critical), and 3 times more damage to the 8 armored T-80A (6 times if its a critical). Thats a LOT of difference. And don't forget that people tends to put ALL of their attention when they see
T-80
on the screen, so T-80s are big shot magnets.
Dont get me wrong. T-80 series, especially T-80BV and T-80U are beasts, but their role is a little different to T-64BVs.
T-64BVs should be used exclusively at defence, well covered with antiair, and have the zone reconed to prevent unknown enemies from shooting in the sides. If used correctly, two T-64BVs can take well over their points on lesser units, reversing as they shoot. They also excell at duels with NATO armor, at a distance. Remember, the only thing you shouldn't do with BVs is pushing inside enemy lines unless screened and micromanaged, otherwise is simply asking for trouble.
-------------------------------------------------
Well that finishes the T-64 series. If you read my post first of all congratulations cause its looooooong. Hope it is also interesting.
When I have more time i'll make the same with T-72 series.
And a last thing:
If you like that kind of posts, please make them sticky. They require a lot of work. Thanks!